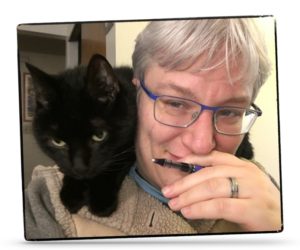 Writing emotionally driven fiction with resilient characters and families.
Short stories
Poetry
Mysteries
More

Incorrigible people watcher.
Animals have souls, too.
Sarah leads writing workshops, including Writing as a Spiritual Practice, drawing on fiction, memoir, and essay as opportunities to deepen our sense of meaning.
Sisters in Crime member, former secretary (2018-2019) of the Puget Sound chapter. Member of the Pacific Northwest Writer's Association.
Sarah's stories, Living Kaddish (2020), and Waiting (unpublished) were finalists for the Tiferet Journal Fiction Contest in 2019 and 2020 respectively. See where to find her writings.
Read more about Sarah.
Click here to receive my monthly newsletters, including a newsy note and a little bit of writing craft.